When arranging a funeral, it is perfectly normal to question where to start. The same can be said for creating the funeral order of service booklet. If you have not had to create an order of service before, then it can be a daunting task. That is why we have published this article, to help you answer any questions you may have. Let us start at the very beginning, the front cover of the booklet.
What details should be included on the front cover of an order of service?
Traditionally, the following information is displayed on the front page of an order of service booklet.
Full name of the deceased (optional to include any nicknames)
A picture of the deceased
Life dates of the deceased (date of birth and date of death)
Date and time of funeral service
Location of funeral service
Funeral service leader name
What picture should you put on an order of service?
The picture used on the front cover of the order of service should ideally be of the deceased, alone. This booklet is a tribute to your loved one, the inner pages and back cover are where you can include pictures with additional family members and group photographs, but the front cover image should be a picture of just the deceased. Try to find a more happy photo, one in which reflects their personality.
It is important to ensure the picture used on the front cover is of good quality. If you have a physical photograph and do not have access to a digital copy, but wish to use on the order of service, then you can easily scan the photograph using a scanner of simply using your phone. There are many mobile apps available to ensure the best quality scan is taken, however you can usually achieve a good enough result by using your phones camera. Make sure to use natural lighting, avoid light glare (do not use flash) and take the picture head on. You can then crop the picture to remove any unwanted background.
What is the difference between an order of service sheet and booklet?
An order of service sheet consists of 1 page, in which details the programme of service, but rarely has space for pictures or song lyrics. Whereas an order of service booklet consists of multiple pages, allowing you to include photographs, lyrics, poems, and memories in which you may wish to share of your loved one.
Order of service front cover example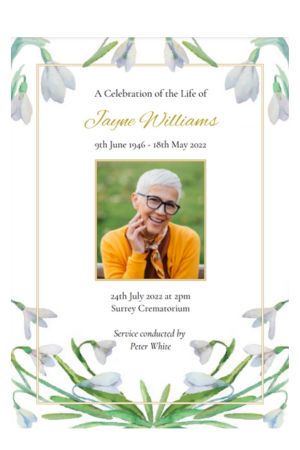 Need help?
If you need any help with creating your funeral order of service booklet, do not hesitate to get in touch with our team. We have a dedicated design team at hand to help you through this process.